You can read this article in 7 minutes
10 games played by millions you've never heard of (especially if you are from Europe)
No matter how thorough is your grasp of the VG industry or how much you consider yourself as a hardcore player aware of every important game release – you are not the alpha and omega, and nobody is. It would be hard to know every triple-A title or local bestseller in a huge, global market, not to mention all the indie and mobile titles. Some franchises grow to monumental sizes while flying completely under your radar. 
Here are some very impressive examples of triple-A, indie, mobile, browser, e-sport, premium or free-to-play games that amass huge audiences without you even being aware of them. Let's see if you know any of them.  
10. FATE/GRAND ORDER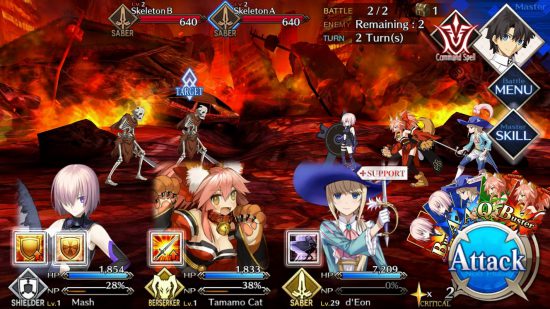 We could easily make the whole list out of popular mobile games you've never heard of. However, we chose only one: Fate/Grand Order. The game's total revenues reached $4 billion by the end of 2019 (Android, iOS). It's is a turn-based tactical RPG with a truly impressive franchise behind it (anime, manga, all kinds of SWAG including erotic accessories).
Fate/Grand Order is a free-to-play game, although individual players spend up to tens of thousands of dollars on various in-game transactions. Although you may not have heard about it, the game is extremely popular in Japan and Korea. The English-language version is available only in selected countries (over 5 million downloads in the US only).
Fate/Grand Order also topped Twitter's "Most Talked About Video Games" category in 2018 and 2019 consecutively. The social platform is especially fond of video games – there were over 1.2 Billion Tweets about gaming in 2019, which is a 20% increase on the 2018 figures.
9. WARFRAME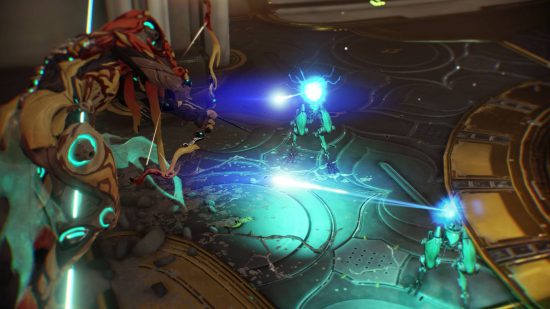 Although the title was released on PC in 2013, it's still evolving. With new modes, add-ons and enhancements, the game's support has been the industry's benchmark for MMO games. This free-to-play title can be played in a PvP or cooperative PvE(nvironment) mode, which combines action-packed TPP shooting with melee combat and stealth elements. On top of that, there are RPG elements in the character development.
Warframe was ported to consoles: PS4 in 2013, XO in 2014, and Switch in 2018 and is planned to appear on the upcoming PlayStation 5 and Xbox Series X consoles. The game evolved dramatically since its launch and the already impressive community of 50 million players is expected to grow further in the upcoming years.
8. PALADINS: CHAMPIONS OF THE REALM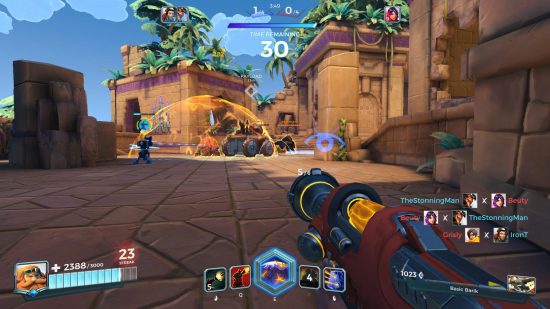 Paladins: Champions of the Realm is a perfect example of how successful a video game clone can become. It doesn't need to be Apex Legends, whose popularity exploded just after its launch as a nice alternative to Fortnite and PlayerUnknown's BattleGrounds in the constantly evolving genre of Battle Royale games.
The tremendous success of Overwatch launched the popularity of another MOBA (Multiplayer Online Battle Arena) game, Paladins: Champions of the Realm. Similarities to the Blizzard's own IP are evident even in terms of graphic style, but this did not stop this free-to-play online MOBA shooter from gathering nearly 25 million players on PC and getting released on PlayStation 4, Xbox One and Nintendo Switch
7. RULES OF SURVIVAL / KNIVES OUT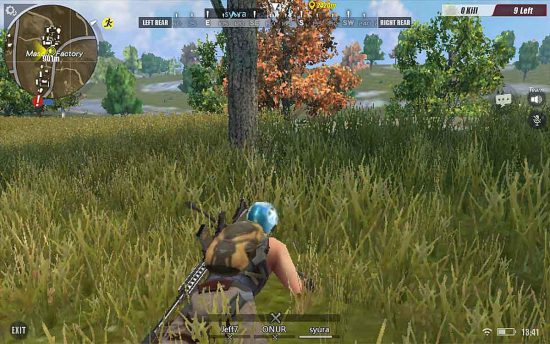 We could list these two titles as one. Consider this as Paladins squared. Both games are Chinese free-to-play copycats of PlayerUnknown's Battlegrounds to the point that they even share the same unique elements (e.g outfits and models, original weapons or phrases).
The effect? Over 230 million and 250 million registered players and a… lawsuit. PUBG Corp. sued NetEase, the developer and publisher of both games, which ended up in a 2019 settlement, although no details of the litigation were shared publicly.
6. ROBLOX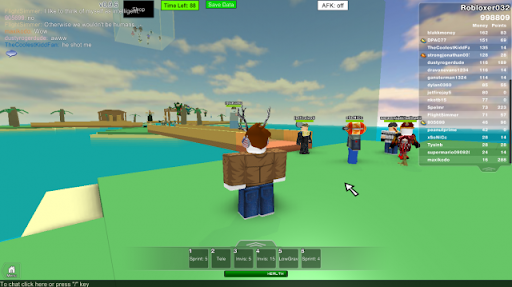 In spite of being 15 years old, Roblox achieved a huge milestone in 2019: over 100 million players monthly. It's not exactly a game, but a Lego-inspired playground allowing the player to create and play own video games. It's mostly popular with teenagers, allowing them to take first-steps into game development.
Moreover: the most popular games on this free-to-play (with microtransactions available) platform could turn creative teenagers into millionaires. Interestingly, the game boasts an exceptionally high percentage of female players: 40%.   
5. TRACKMANIA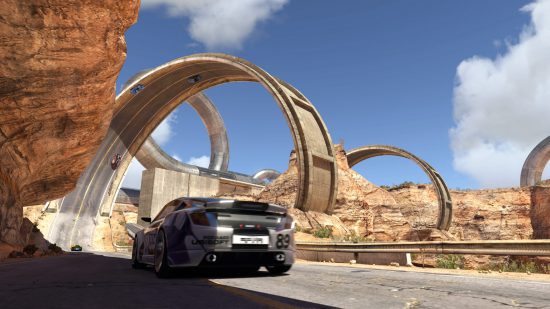 E – sport titles like The League of Legends or Counter Strike, while not necessarily everyone's cup of tea, are definitely household names. But there is one unsung hero, a title that remains in the shadows. Trackmania is an arcade racing game with more than a dozen of instalments and spin-offs since it was released in 2003. It failed to grab the attention of "normal" racing game fans due to its unrealistic, arcade driving system – crazy tracks going upside-down with loops and rolls reminiscent of a theme-park ride.
Yet the game boasts a huge community of players due to its freeware versions and an impressive amount of user-generated content. Trackmania holds six records in the Guinness World Records: Gamer's Edition book, including categories like "Biggest Online Race" and "Most Popular Online Racing Sim" (Guinness World Records, March 11, 2008. Guinness World Records Gamer's Edition. ISBN 1-904994-21-0).
It's a racing game for non-racing game fans.
4. SHIN MEGAMI TENSEI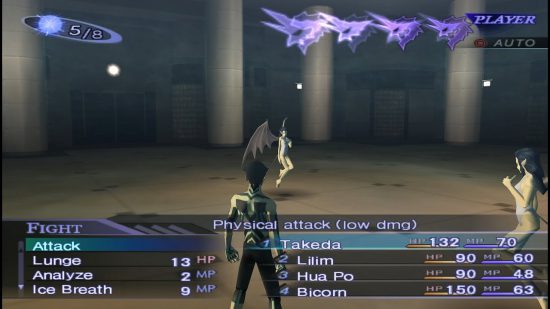 Shin Megami Tensei is one of the most important jRPG game franchises that's already three decades old. It consists of multiple, different types of jRPGs, all of them set in near-future Tokyo, where reality meets the realm of demons and puts a player in front of moral decisions.
The name used to be hardly known even among RPG fans, but has gained huge popularity over the past couple of years thanks to its amazing new instalment of Persona – a sub-series which, with over 10 million copies sold, accounts for a half of the franchise's worldwide total sales. Persona 5 and its newly released enhanced version Persona 5 Royal are also one of the top scored videogames of this generation, achieving impressive average scores of 93 and 95 respectively on Metacritic.   
3. MADDEN NFL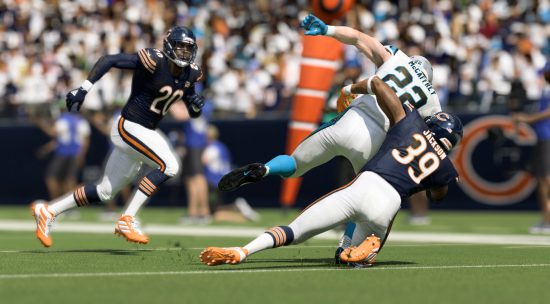 Unless you are based in the US, you have most likely never played Madden NFL. The game is one of the most successful Electronic Arts franchises that has surpassed 100 million copies sold. This American Football simulator is branded with the name of the legendary NFL player, coach and a sportscaster John Madden.
It's a perfect example of the power of internal economy on the example of US video games market. The game, with a new instalment every year, besides high metascores and sales levels, is barely known outside North America.
2. DUNGEON FIGHTER ONLINE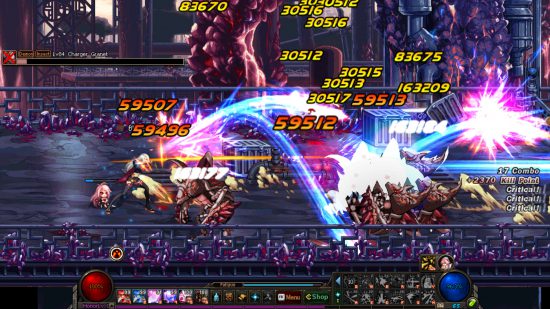 Dungeon Fighter Online is one of the most successful free-to-play titles of all time. As a classic beat'em up action game, it resembles Golden Axe and other games from the golden era of 16bit 2D slashers. Enhanced with RPG elements, Dungeon Fighter Online boasts beautiful 2D graphics and offers over 170 classes of characters and countless skills and equipment combinations.
The game's in-game purchases brought the developers $13.4 billion in lifetime revenue as of 2019. The game gathers 600 million players worldwide, but is mostly popular in Japan, China and South Korea along with its supporting manga and anime series.
1. CROSSFIRE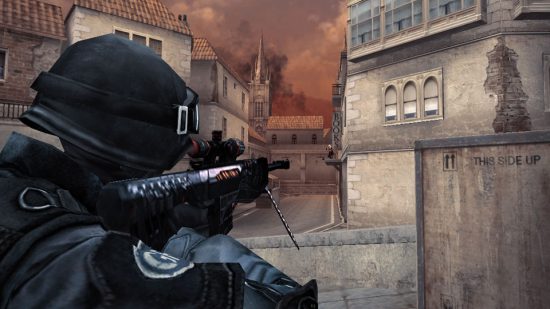 This title might be considered as an Asian counterpart or cross of Counter-Strike and Call of Duty. This online tactical first-person shooter is offered as a free-to-play game on PC (and is coming to Xbox One later this year). Its core gameplay puts a maximum of 16 players divided into two opposing teams. The game dropped in popularity in Western countries, leading to the merger of EU and North American servers in 2018, but is still unimaginably popular in Asia, especially China and South Korea.
According to the game's developer and publisher Smilegate, Crossfire is one of the most popular online FPS games in the world, with 660 million (sic!) registered players and 8 million concurrent users. 
As you can see, there are titles with incredible popularity, that are not present in the gaming media. Certain rules are also visible: free-to-play games focusing on online gameplay achieve impressive results. Premium games are much harder to achieve such scale, although there are spectacular examples, such as mentioned Madden NFL. However, subscription and game pass solutions are becoming more and more popular, giving access to many different games at the same time. In the future it will certainly significantly increase the player community also for triple-A games, which prices are still a barrier for gamers.